China Business Intelligence Network: Medicine is a substance or preparation to prevent or treat or diagnose human and livestock diseases. Relying on the dual cycle, we will promote the transformation of import dependence to domestic substitution, realize the smooth operation of the domestic industrial chain, and reduce the import dependence in high-end medicine and other fields.
First, medicine "internal circulation"
1. Pharma market size
In recent years, China's pharmaceutical market has maintained a growth rate beyond the global pharmaceutical market. In 2016 to 2020, the market scale of the Chinese pharmaceutical industry increased from 1329.4 billion yuan to 1791.9 billion yuan. The China Business Industry Research Institute predicts that China 's pharmaceutical market will continue to maintain the growth trend in 2021, and the market scale of China' s pharmaceutical industry will reach 1885.8 billion yuan in 2021.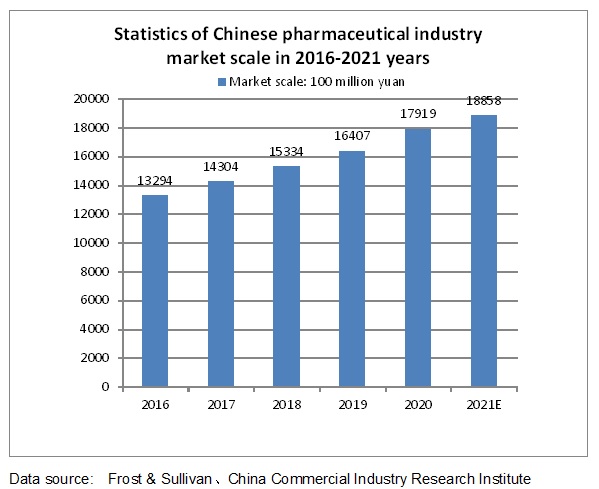 2. Pharmaceutical operation
The pharmaceutical industry is an important part of China's national economy, and it is a combination of traditional industries and modern industries, and it integrates the primary, secondary and tertiary industries. Data show that in 2020, China's pharmaceutical industry business revenue reached 2485.73 billion yuan, a 4.5% growth. From January to March 2021, the business revenue of the Chinese pharmaceutical industry reached 655.51 billion yuan, up by 33.5%.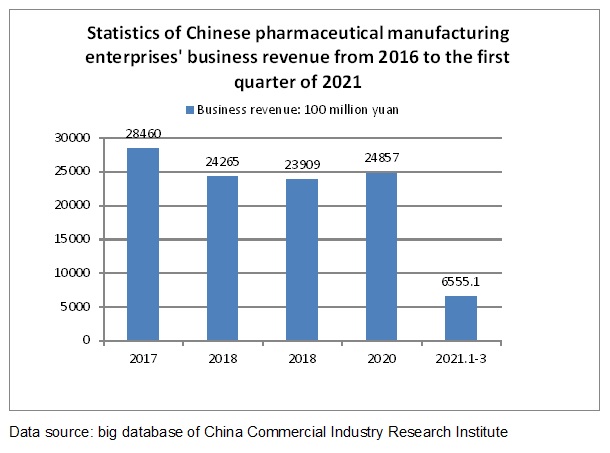 The overall development trend of China's pharmaceutical enterprises has shifted from rapid growth to stability. In 2016 to 2019, the total profit of Chinese pharmaceutical manufacturing enterprises above the industrial scale increased steadily, rising from 300.29 billion yuan to 350.7 billion yuan. From January to March 2021, the total profit of China's pharmaceutical industry reached 114.76 billion yuan, up 88.7%.
3. Pharma market segment
At present, China 's chemical market accounts for a relatively large proportion. Data show that in 2020, China' s chemical market scale reached $ 120.9 billion, traditional Chinese medicine market scale reached $ 73.7 billion, and biological preparation market scale reached $ 53.5 billion. It is predicted that the overall scale of China's pharmaceutical market will maintain the growth trend in 2021, and in 2021, the market scale of chemicals, traditional Chinese medicine and biological preparations will reach USD 125.5 billion, USD 75.3 billion and USD 63.5 billion respectively.
Second, the medical "external circulation"
China's medical drug imports are growing rapidly. In 2020, the import amount of pharmaceutical materials and drugs reached 219,500 tons, down 0.6% year on year; the import amount reached USD 37.187 billion, up 3.5% year on year. Exports reached 1.314,4 million tons, up 7.5% year on year; US $ 23.033 billion, up 26.6%. The latest data show that in January to April 2021, China's pharmaceutical materials and drug imports reached 22,000 tons, and the export volume reached 129,000 tons.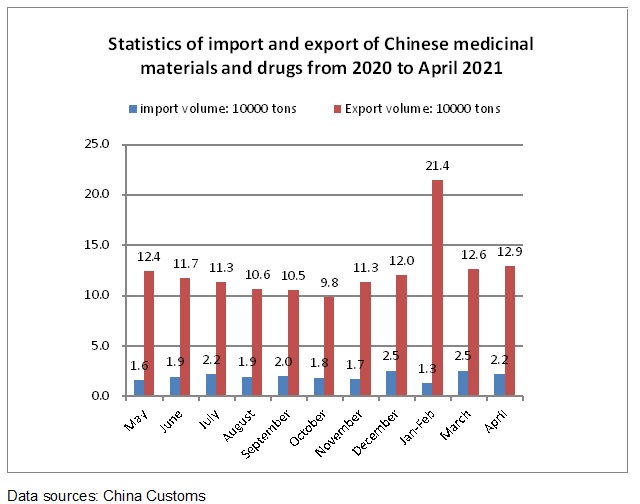 Data show that in 2019, China's API exports entered the threshold of one million tons, reached 10.1185 million tons, increasing 8.83% year on year, the export volume reached USD 33.683 billion, and the average export price of 12.1% rose 3% year on year, showing a good trend of rising volume and price. China Commercial Industry Research Institute predicted that China's export volume and export amount of API drugs could reach 11.194 million tons and 38.80 billion US dollars in 2021, respectively.(Data source: China Chamber of Commerce for import and export of health care products.)
Third, the development prospects of the pharmaceutical industry under the "double cycle"
Under the double-cycle development pattern, the domestic demand potential of China's pharmaceutical industry is expected to be further activated, and the innovation of drugs and devices is expected to accelerate and accelerate the substitution of imports. At present, China has had a relatively profound accumulation in the pharmaceutical and equipment fields, and its production capacity has been significantly improved, but the innovation is insufficient, and the main market is still monopolized by foreign capital. Under the pattern of double cycle development, Chinese enterprises have been further activated and strive to break through the bottleneck problem.
Source: China Commercial Industry Research Institute